Arrested smuggled in illegal cigarettes, Johny
carry
police official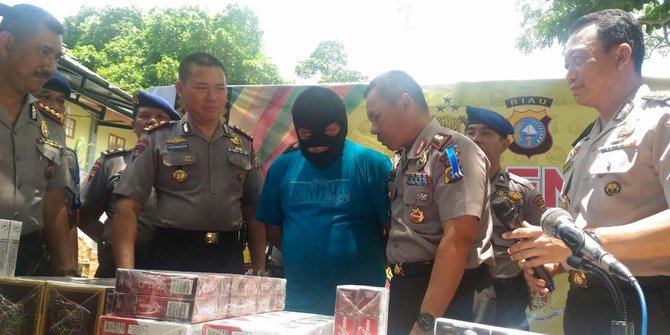 Jhony, a man who has expertise in the field of Information and Technology (IT) have been and often cooperate with the Special Criminal Investigation Directorate Polda Riau.
However, he was arrested members of Water Police for smuggling cigarettes without excise duty and on Batam Riau Islands province towards Meranti Islands, Riau province.

"When arrested, he mention the name of this officer, officials said, in Krimsus the police. But that does not apply, because he was committing a crime by bringing contain 300 boxes of cigarettes without excise duty," said Riau police chief Inspector General Zulkarnain Wednesday (8/3
).

Did not dismiss the police chief, Jhony formerly often 'used' Ditreskrimsus commanded by Commissioner Rival Sinambela was to assist police in cyber world issues and cases related to technological sophistication.
However, Zulkarnain stressed that none of his men were involved in smuggling the cigarettes without customs clearance.

"None of the members involved, we have to explore. We are questioning the suspects. He said he worked alone, and the capital itself. But I am sure, no one gave him capital, it is still be explored who it was," said Zulkarnain.

In business illegitimate, Joni issued capital of USD 700 million to buy cigarettes without customs of various brands and reselling it at a higher price.
He had succeeded in smuggling the cigarettes but not arrested, until the second time police have thwarted the water.

"From the confession, the gains suspects reached USD 40 million. He has twice smuggling the cigarettes without customs, and this is the second time being caught and arrested by us," said Zulkarnain.

Thousands of cigarettes wrapped in 300 boxes that will be distributed in the district Meranti Islands.
Actions that distribute illegal cigarettes are considered police, have cost the state up to Rp 1 billion.

"The modus operandi with the advantage of a policeman, he brought the ship through the use of cigarettes that mice harbor midnight. But the officers who patrol when it was caught," said Zulkarnain.

Jhony arrested Riau Police Water Police Directorate, on Tuesday (7/3) at 1:30 pm yesterday.
When it Jhony being shunt cigarettes without customs documents, the Port folk Rumbling Water Street, Village Gogok Darussalam, District Tebingtinggi West, Meranti Islands District.

When viewed from a distance, cigarette smoking is very similar to the famous branded circulating in Indonesia.
But after being approached, it turned out cigarette brand is a little like cigarettes normally.

Trademarks illegal cigarettes without customs confiscated property of Jhony include Suraya Stars, H Mild, Luffman, Super, Centro Mild, Mild and Andalas Link